1970.Unicorns have been with us longer and in more remarkable ways that you might know. Our researches have uncovered this previously unreleased photo of one of the first Portland Police Bureau Mounted Unicorn Patrols ...
ca, 1891
: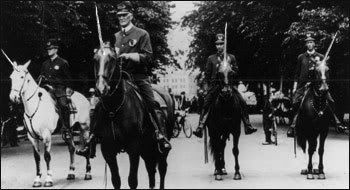 And in modern times (
ca. "now"
):
Stranger and stranger,
inDEED!
Our guess is that the more world-weary unicorns (the ones that don't need to be tamed by a virgin) try out for the mounted patrol.
It's entirely possible that the old legends about the unicorn is a bit wrong, of course. You know, everyone has a PR flack these days ...
Technorati Tags:
Portland
,
Unicorns
,
Portland Unicorn Burial Ground
,
Portland Police Mounted Patrol
,
Portland Police Mounted Unicorn Patrol
,
Portland Unicorns