1622.
Thank you to all the BoingBoingers who's stopped by. This modest piece isn't my best work, however; I like mashing up signs with words that don't belong there. Might I also recommend this sequence of images, which I understand, are quite guffaw-inducing?
The picture herein was ripped off of Boing Boing because the article's author suggested the punctuation, which I added.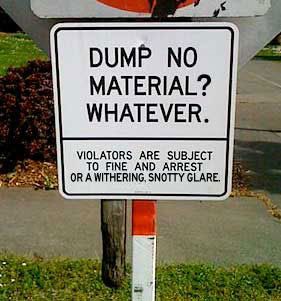 The sign is located along the Lake Washington Ship Canal in the Fremont neighborhood of Seattle, and is apparently in an effort to prevent it from becoming the Lake Washington "Schmit" Canal.
The original article and photo is here; I added the punctuation and the more attitudinally-appropriate punishment. Just imagine a record-shop employee with hipster-glasses writing you the ticket.
Tags: teh_funnay, spoof signs
Powered by Qumana