1701.
(NB: There may (or may not) be those who would point out that, by rights, the last post (about ShatnerVision) should be post #1701. That's the way the yarrow sticks fall, people.)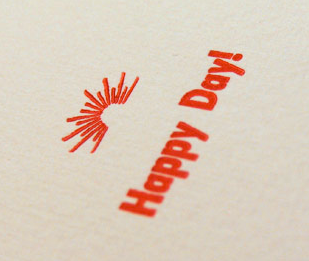 A few days back I commended you all to a series about letterpress printing that Lauren at CreativeCurio.com did. I thought it was wicked interesting and I think everyone should read it. I also mentioned that there was a comments drawing where Lauren was giving away a few sets of the very lovely cards that she was making in that print run.
I am pleasantly surprised to find out that I'm one of the lucky winners. I will be recieving a set of letterpress cards with the Happy Day! design, which will do a bit of cheering up, no mistake there.
Thanks, Lauren!
And read CreativeCurio.com, you people.
Tags: contest, laurenmarie, creativecurio.com, letterpress
Powered by Qumana