1833.
Being subscribed to Jeff Domke's email newsletter has its benefits. One of them is hearing that he's designed an extremely cool set of twenty-four TrueType dingbats.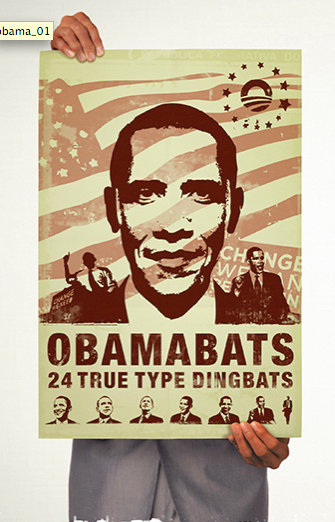 They were inspired by art in the open:



If you walk through Brooklyn, you can find several massive Obama paintings/graffiti pieces on garage doors and old brick walls. Inspired by this notion (and time between freelance projects) I decided to create a collection of dingbats that would allow anyone to easily build similar artwork.

Each dingbat was converted from photographs found on web using a combination of Adobe CS3 adjustment layers and live trace. The poster is just an example which I made in about six minutes using ObamaBats.



Inspired, yes? See what you can do with type sometimes?
Here's the whole of it:
Like I said, it's free, and you can find it here.
Neato, Jeff!
Tags: type design, dingbats, Barack Obama, novelty fonts, Jeff Domke
Powered by Qumana