1518. As I said, I have a short, shameful musical confession to make. It's not the following bit, though; this I am quite proud of. The shame comes later, so stay with me.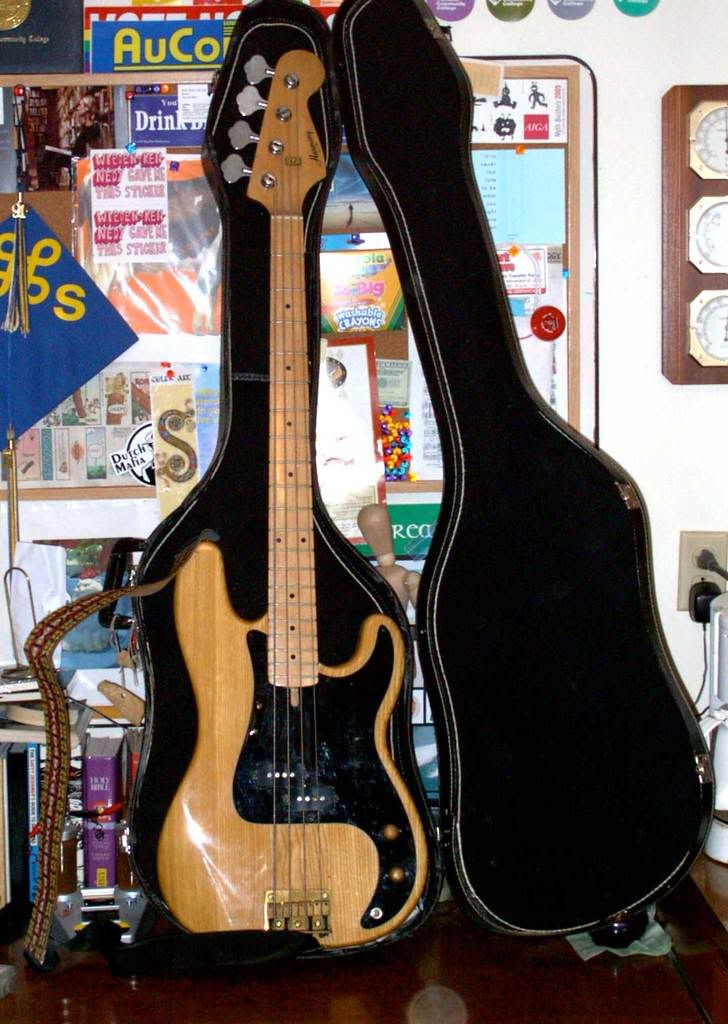 I own a bass guitar. I adore basses, everything about them; I up the bass on all my music, and of all my favorite bands, my favorite member is the bassist (for bonus points, then: Kelly Groucutt, John Entwistle, Tony Lewis, John Lodge, Pete Farndon, John Taylor – who do they play with? I don't know what you're going to do with the extra points, but they're yours ... ). I even follow the bassists in groups whose music I doesn't like.
Some years back, in hopes of joining that number (even if only as a hobbyist) I got a bass of my own. It's a beautiful little blond-wood "P-Copy" (which is a bass geek's way of saying "it looka like a Fender Precision) which was apparently made by Harmony. That's her on the right.
Here's the shame part. The confession. Though I've been her keeper for many years now, I still don't know how to play her. That's right. I've promised and promised and promised myself and her we'd hook up and I've never followed through. Oh, every now and again I'd relearn how to tune her and then practice a few scales but then I'd get distracted by necessity or some bright shiny thing.
The shame grows deeper. Though I know she's a Harmony bass, I don't know what model she is. Now, I do know something about Harmony; at one time it was the biggest manufacturer of guitars in America. Most hobbyists and a great deal of pros played Harmony products. Harmony still exists, more of a niche company now, but they're still there.
But that's right; I brought her home and not only didn't get serious about playing her, I never even really got to know her very well.
The bass guitar is a beautiful thing, and I have done her a disservice by neglecting her so. To have a bass is an honor – maybe one that anyone with the proper coin can have, but an honor nonetheless – and I have not up to now been acting very deserving of the honor. I may indeed soon begin getting serious about playing her. But first I want to get to know her the way I should; I want to identify this one.
I am at this point putting out a call for help, to anyone wise the the lore of the musical instrument. Can anyone clue me into what sort of a bass I have here? Follows some closeups.
Here's the headstock:
The Harmony logo is properly done, in the proper place and attitude, and complete with the "Est. 1892" tag line. I purchased this bass in 1984, I think it was, and the original Harmony company had been relegated by the end of the '70s. Could it be possible that Harmony licensed the name out?
Here's a closeup of the body: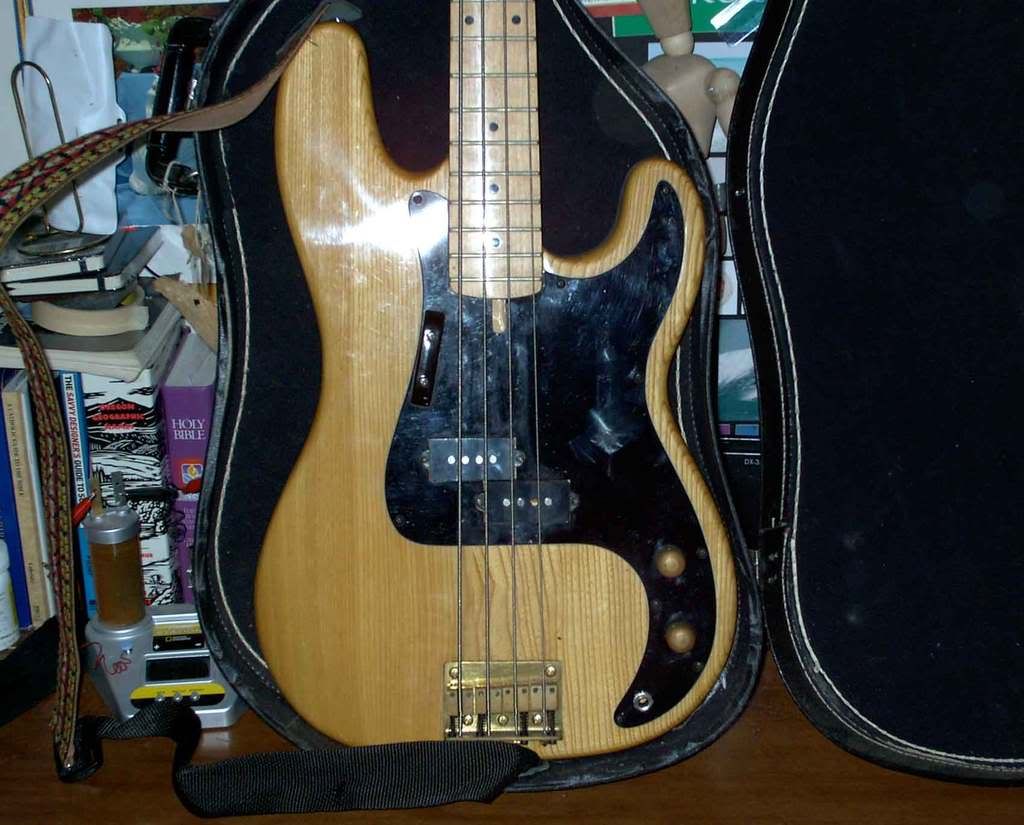 Tone and volume controls, two staggered pickups, and a thumbrest there on the left at the edge of the scratchplate. If you look carefully at the end of the fretboard there, between the A and D strings, you'll see the access too the neck tensioning nut (which I usually see in pictures on the headstock adjacent to the nut).
Here's the back of the headstock:
Note the little sticker there at the bottom of the headstock. Here's a closer view: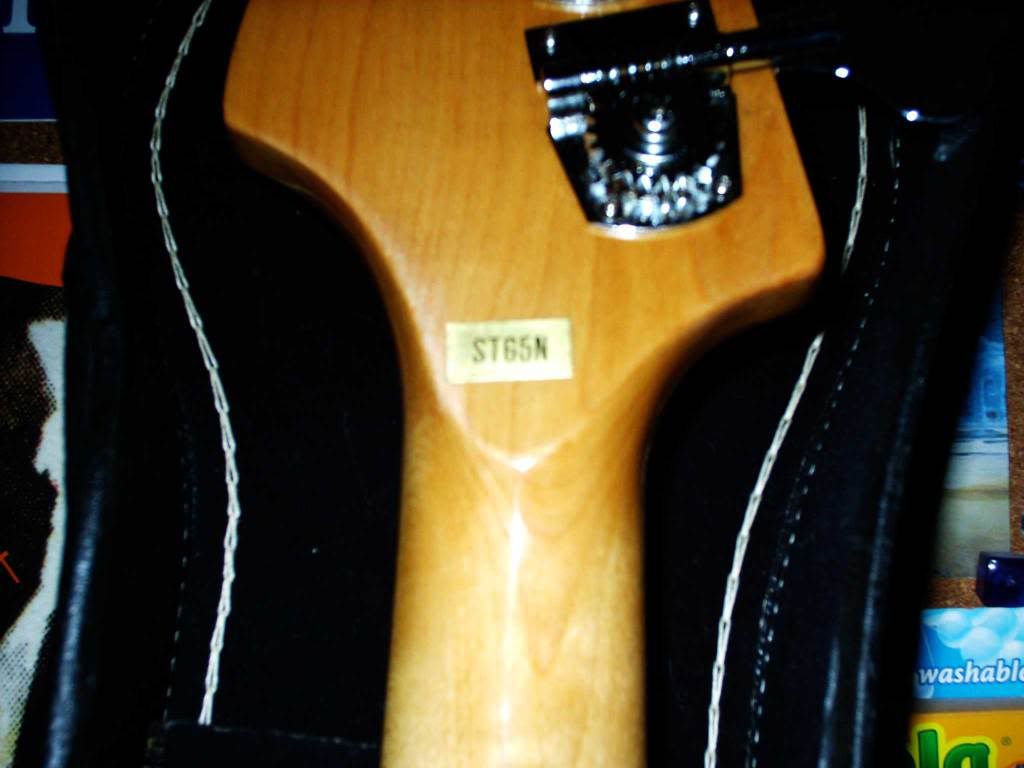 It reads "ST65N", which I think may be the model number. But I'm not sure about this; the Harmony H65 wasn't a bass.  So I don't know what that sticker's supposed to be telling me.
To bring the proceedings toward their close, here's the back:
Not a great picture; somewhat blurry. Note thedark stripe down the middle of the neck; it is an inlay that no doubt closes in the neck tensioning bar. There is a metal plate there at the neck-body junction that probably houses something somehow.
That's her. If I can get her identified, then maybe I can make up for keeping her in the dark all these years. So someone help me please!
And I do intend, soon, to learn how to play her. I'm not one of those "bucket list" types; I always thought naming a list of 100 (or however many) things to do before you die just sets you up for hating yourself on your deathbed if you didn't get the whole list checked off. Better you identifiy your passions and chase them as best you can; if you go after what you want, you really can't say you've completely failed.
But if I was a "bucket list" type, playing a bass in a band on stage at least once in my life would be right up there near the top. I don't know if this is around the corner or a few years down the street yet, but, one way or the other, I'm going to do it.
Tags: dreams, music, bass guitar, Harmony guitar, Harmony bass, p-copy
Powered by Qumana